Countries as diverse as Uruguay, Denmark and Namibia have scaled up solar and wind at rates faster than what's needed globally to limit global warming to 1.5 degrees C
By Joel Jaeger – Senior Research Associate, Systems Change Lab
Renewable energy has grown exponentially over the past two decades thanks to government policy and falling prices, far faster than many experts expected. Today, building new solar and onshore wind power on average costs around 40% less than coal or gas power. These cost declines have helped renewables reach a tipping point, meaning that the transition away from fossil fuels appears difficult to reverse. 
But even if the shift to renewables is becoming inevitable, the crucial question is whether the world can ensure it occurs fast enough to limit global warming and meet goals set in the Paris Agreement on climate change. As of 2022, solar made up 4.5% of global electricity generation and wind made up 7.5%, for a total of 12%. According to the International Energy Agency, solar and wind together need to make up 41% of the global electricity mix by 2030 for the world to be on track for a net-zero emissions future.
Which Countries Have Scaled Up Solar and Wind the Fastest?
Increasing solar and wind generation from 12% to 41% by 2030 requires a rapid pace of change, but eight countries have proven it's possible. Uruguay, Denmark, Lithuania, Namibia, Netherlands, Palestine, Jordan and Chile have all grown solar and wind over a span of five years at average annual rates higher than what's needed.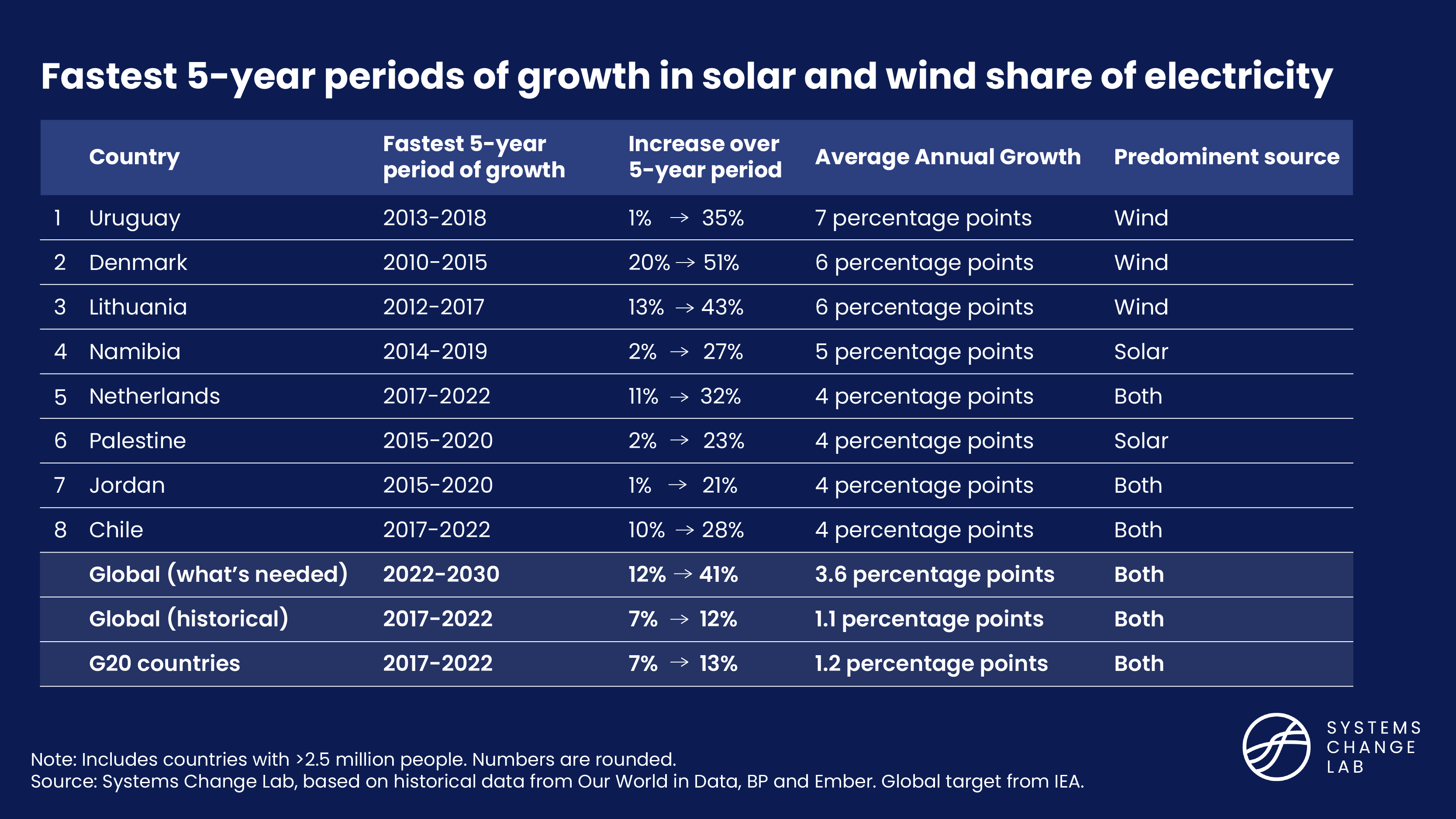 Three of those countries — Uruguay, Denmark and Lithuania — have even grown their solar and wind at sufficient rates over a span of eight years or longer, which is significant because it is the amount of time that the world has between 2022 and 2030. Several of the other five countries also appear well poised to extend their high levels of growth beyond five years, considering that their fastest years of growth have been the most recent.
The top eight countries are quite diverse, proving that a rapid transition is possible in many different contexts. Some have high income levels like Denmark (GDP per capita of $67,000 in 2022); some are in the middle like Uruguay ($21,000) and Lithuania ($25,000); and others are much lower income like Namibia ($5,000) and Jordan ($4,000). Their population density ranges from 798 people per square kilometer in Palestine to only 3 people per square kilometer in Namibia. In some of these countries, electricity use per capita has been growing rapidly, as in Uruguay, while in others it has been declining, like in Denmark.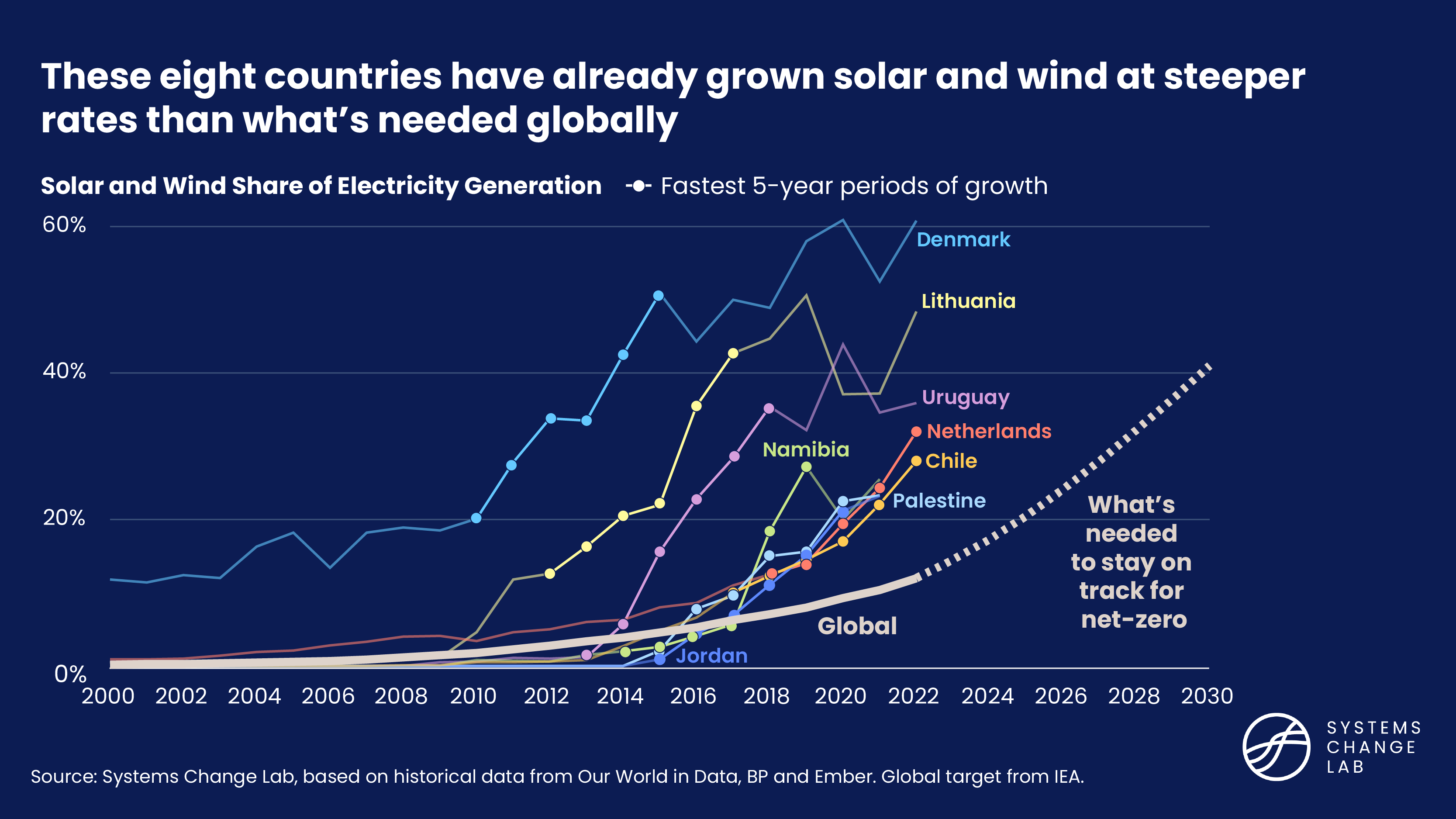 Our ranking focuses on the growth in a country's share of solar and wind rather than total levels, which is why some other countries that have been influential in the development of renewable technologies are not on the list. China and the United States build the most renewable energy capacity each year, but because they are so populous, solar and wind still makes up less than one-sixth of electricity generation in both countries. Other countries have both a large population and have achieved a high share of solar and wind in their national electricity mix, like Spain (33%), Germany (32%) and the United Kingdom (29%) but for those three countries, the growth took place over a longer period at rates less than 3 percentage points per year.  
Let's dive deeper into Denmark, Uruguay and Namibia to learn about the ingredients of a successful transition to solar and wind in different national circumstances.
Ingredients of Change in Practice: Denmark
Denmark has been at the forefront of wind energy innovation for more than a century. In 1891, a Danish scientist constructed one of the world's first wind turbines. That legacy is carried on today, as the government spends more on renewable energy research and development as a share of GDP than any other country. Denmark is also home to Vestas, the world's biggest wind turbine manufacturer. 
Government policy has been the driving force behind wind power growth. After many decades of experimentation, Denmark began developing its wind industry in earnest in the 1970s to boost energy security in response to the oil crisis. The government introduced wind power subsidies including a feed-in tariff, which guarantees that wind power producers receive a fixed, above-market price for the electricity they produce. It promoted community ownership of wind turbines, which helped increase public support for wind power for several decades.
In 2001, a new government pulled back financial support, which slowed the growth of wind power. At the same time, it became harder for community groups to afford larger, more expensive turbines. 
Eventually, a new government coalition recommitted to renewable energy policy. Denmark's 2008 Renewable Energy Act raised the feed-in tariff for wind, providing a stable revenue source for wind developers and costs soon began to fall again. In addition, the new law required wind developers to offer at least a 20% ownership share to local citizens and included other measures to benefit people living close to wind turbines. After this and other new policies, Denmark's wind industry entered its fastest period of growth.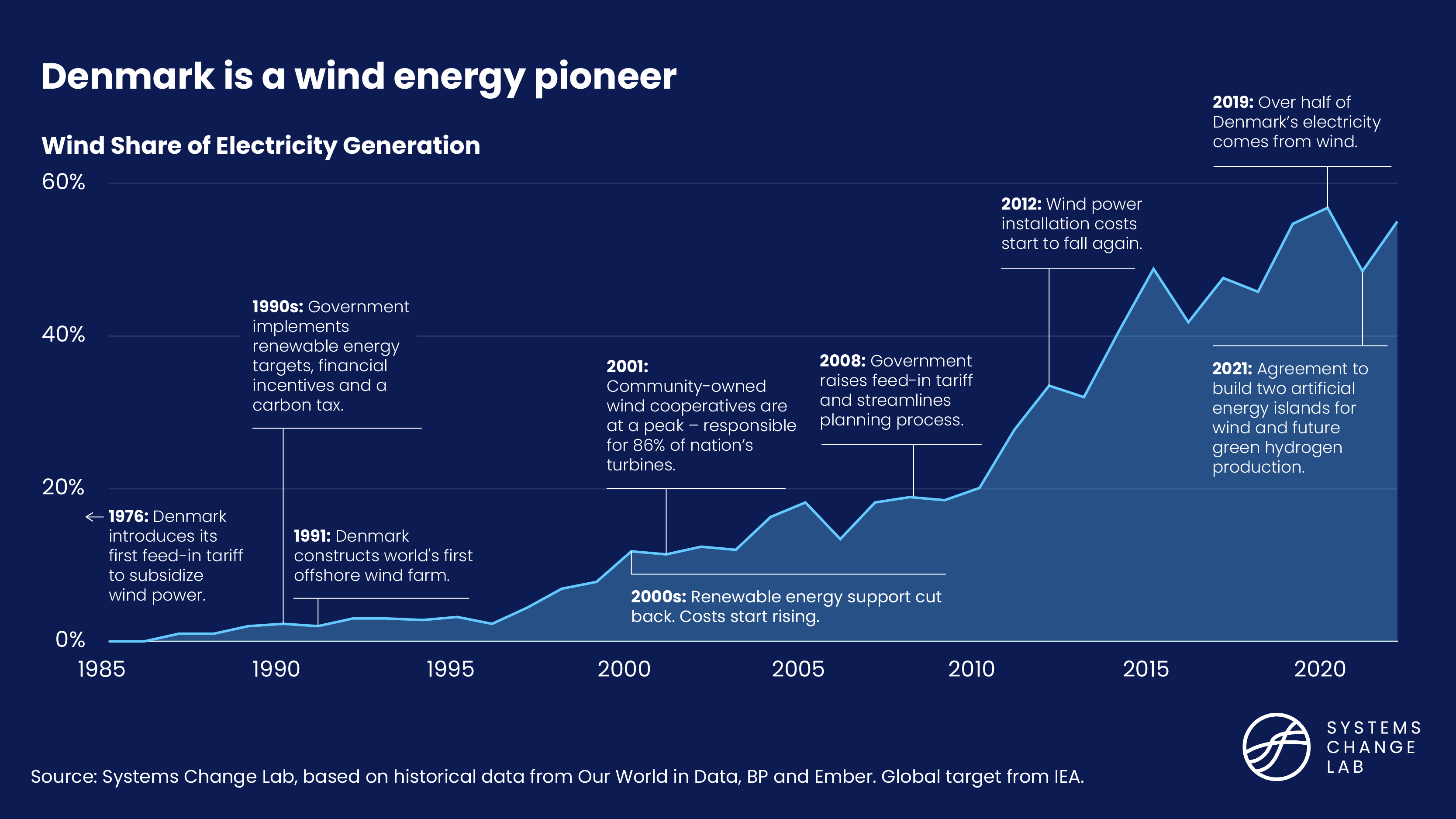 Today, more than half of Denmark's power comes from wind energy — the most of any country in the world. Denmark's grid is closely interconnected with neighboring countries, so it also exports wind power on windy days. Thanks to the growth of wind and other zero-carbon energy sources, Denmark has successfully phased down fossil fuels from 97% of its electricity mix in 1990 to 16% today. 
Denmark's renewables growth has slowed since 2015, but there have still been exciting developments, such as the construction of two artificial energy islands off the coast that will produce wind and someday green hydrogen. Still, Denmark needs more renewable energy deployment if it hopes to meet its ambitious emissions-reduction targets.
Effective government policy and investments, political leadership and an innovative private sector led to Denmark's success story. But there were also important background factors that helped. Denmark is one of the highest-income countries in the world, and it is among the top five countries according to measures of government effectiveness and ease of doing business. In addition, the government has close working relationships with unions and employers and has promoted a just transition. For example, when Denmark recently announced a halt in oil and gas exploration, it also agreed to expand offshore wind power jobs in Esbjerg, the port city where the majority of oil and gas jobs are located. Fossil fuel workers near retirement were offered early pensions and the municipal government worked with unions to develop re-training.
Ingredients of Change in Practice: Uruguay
In just five years, Uruguay increased wind power from 1% to 34% of its electricity mix, an astonishing rise that's the fastest any country has ever achieved in that short a time frame. The speed is especially impressive considering that Uruguay's GDP per capita is four times lower than Denmark's, it didn't have any history with the wind industry before the mid-2000s and its electricity demand was growing. So how did Uruguay stimulate such a rapid change? 
Uruguay historically relied on hydropower, but a series of droughts from 1997 to 2007 drained the reservoirs, causing blackouts that required the country to pay for expensive fossil fuel imports. In response, the government developed a comprehensive plan in 2008 for wind energy in concert with national and international stakeholders. Soon thereafter, the majority political party sought out and reached an agreement with the opposition party to guarantee the plan's longevity. As then-President José Mujica said, "governments pass and people remain." 
Uruguay's wind power strategy kicked off with a program that helped demonstrate the potential of wind power for the country and remove barriers for the wind industry, funded by $6 million from the government's budget and $1 million from a Global Environment Facility grant. The strategy succeeded in securing more substantial investments in renewables. From 2010 to 2016, Uruguay's received $5.6 billion in clean energy investment from private banks and international development banks.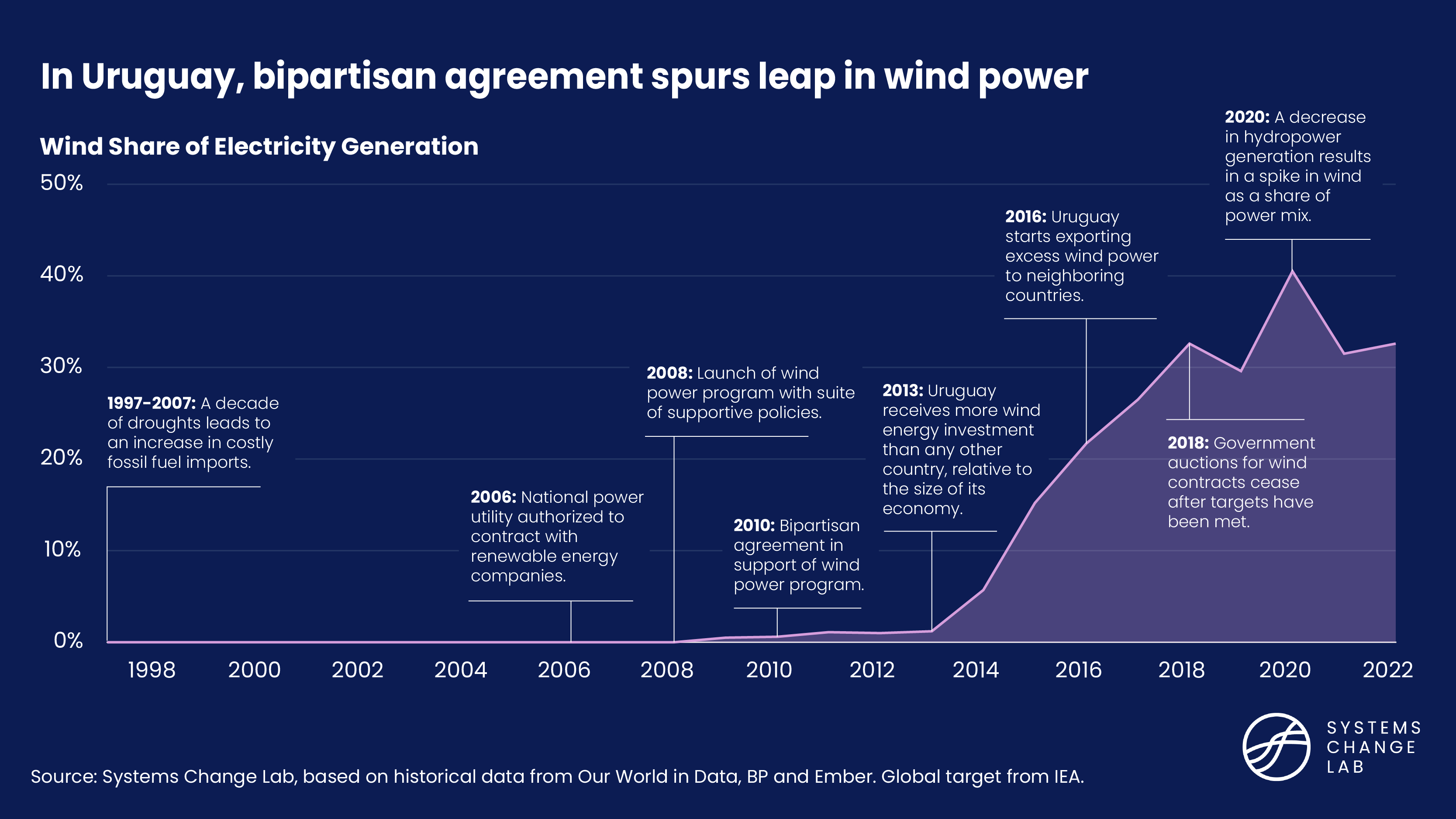 The initial wind energy strategy allowed independent power producers to feed renewable energy into the grid for the first time. The state-owned utility, UTE, arranged competitive auctions for large-scale wind development and a feed-in tariff for small-scale wind projects. Uruguay wasn't able to provide large financial incentives for wind power, but what it could offer was long-term 25-year contracts, guaranteeing fixed rates and stable revenue for companies. This kept the prices of wind power low. Uruguay also funded training for the state-owned utility on how to integrate renewable energy into the grid. 
Uruguay benefited from the fact that it is relatively wealthy and stable compared to other countries in the region, and its national utility also has a high credit rating, which allowed loans to be obtained at low rates.
The rapid growth in wind power leveled off after 2018, with essentially no new investments when it seemed Uruguay had solved its energy security problem. In the following years, it exported excess wind power to Argentina and Brazil, rather than having to import fossil fuels like it used to. Electricity needs stopped growing due to a slowing economy, and the government didn't want to pay for excess or unnecessary power purchase agreements. However, another drought and low hydropower utilization has meant that Uruguay is once again importing electricity in 2023. Given the increased likelihood of droughts in a warming world, Uruguay may want to consider more wind power. It also needs to expand its transmission capabilities, including the inter-connections with neighboring countries. Finally, Uruguay should consider the benefits of wind for consumer prices. Electricity prices have decreased since Uruguay invested more in wind energy, but the country still has the highest residential power prices in South America.
Ingredients of Change in Practice: Namibia
Namibia is in a far different position than Denmark or even Uruguay, with an annual GDP per capita of only $4,911. It has been steadily expanding its grid, but as of 2020 44% of its population lacked access to electricity. Yet Namibia is becoming a solar leader. Within a decade, Namibia grew solar to one-quarter of its national electricity mix.
The majority of Namibia's power is imported from neighboring countries such as South Africa. This is expensive, and it became even more so after South Africa started experiencing supply shortages in 2008. A desire for energy security led political decision-makers in Namibia to turn to solar energy. It was the obvious choice. Namibia receives on average 10 hours of strong sunlight per day for 300 days a year, making it the number one country in the world in terms of the amount of solar photovoltaic energy that it could practically utilize. A solar panel in Namibia receives twice as much useable solar energy per year as one in Ireland, the least sunny country in the world.
To attract private investment, in 2015 the state-owned utility, Nampower, opened up power generation to independent power projects as part of its feed-in tariff program. In the following years, Nampower introduced competitive auctions for solar and implemented further policy reforms. By 2018, Namibia had 20 independent power projects, mostly solar. All of the solar technologies are imported, but Namibia's laws require that a share of independent power projects are owned by Namibians, including disadvantaged groups.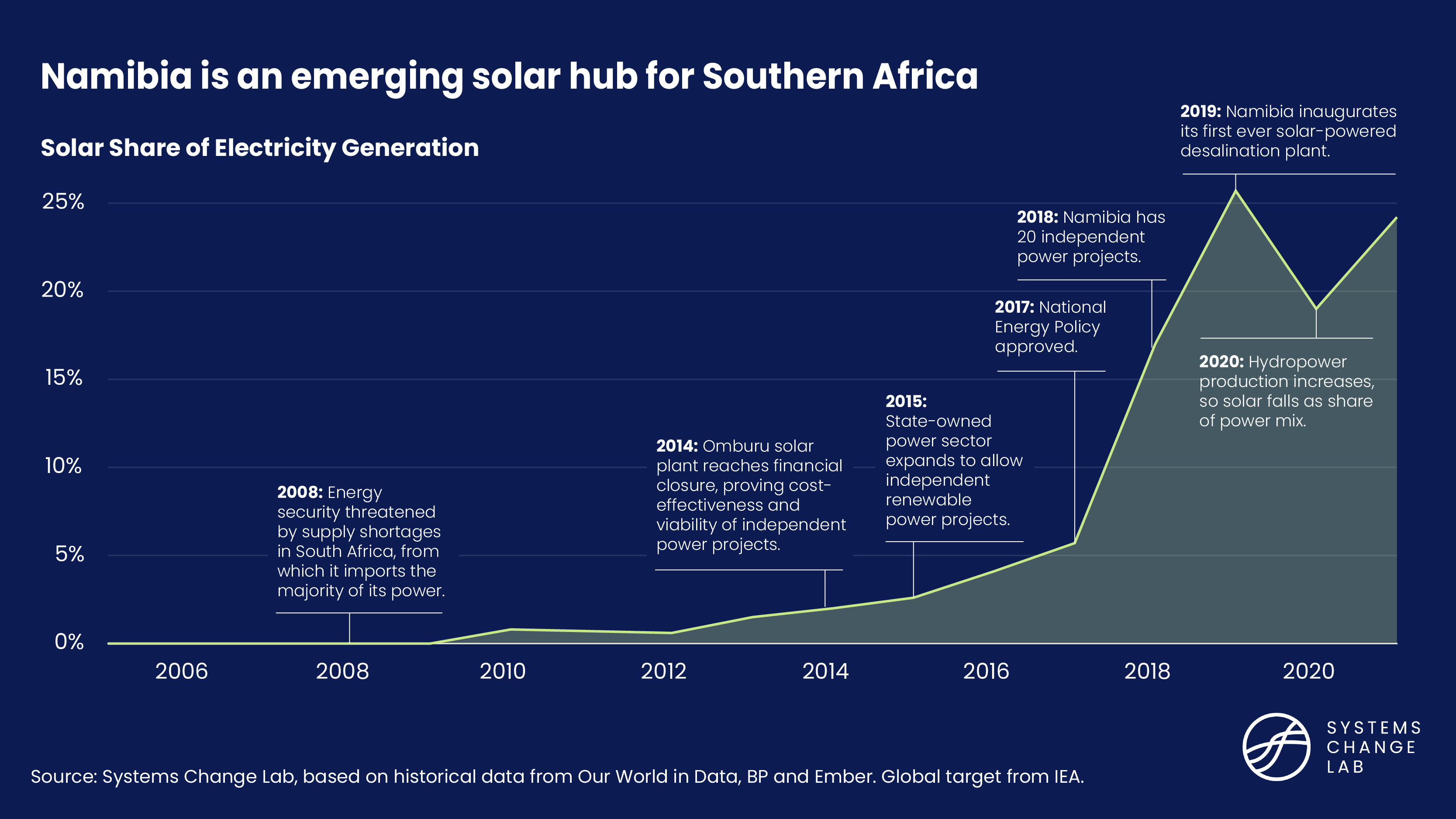 The Namibian government didn't have to offer big financial incentives to achieve its rapid solar buildout. Solar plants were cost-competitive in Namibia without subsidies. The country's recent auctions have achieved some of the lowest prices for solar in all of Africa, well below typical grid electricity prices. The growth in solar was made easier because Namibia has a positive investment climate compared to many other African countries. Nampower itself is in good financial standing, inviting investor confidence. 
Exciting developments continue. Given Namibia's desert climate, solar could also be a solution to increase access to clean water. In 2019 it inaugurated its first-ever seawater desalination system powered by solar energy, which has 70% lower life-cycle costs than traditional desalination systems since it doesn't require any fuel. In 2021 Namibia agreed to partner with USAID's Power Africa on the Mega Solar initiative to support the procurement of 300-500 MW of solar in the next few years. It's also looking to begin green hydrogen production for export to Europe, which would be powered by renewable energy, although ensuring that local populations have access to clean, reliable electricity will be of utmost importance.
Namibian President Hage G. Geingo has said that "Namibia is uniquely positioned to become the renewable energy hub of the continent." The potential is large, and the first steps have been promising. However, even though solar makes up a large share of Namibia's power mix, it's still a low amount of capacity in total, given that power demand is not that high. Namibia uses 7 times less power per capita than Uruguay and 9 times less than Denmark. The country will need to maintain rapid growth in solar generation to keep up with increases in power demand in the future. In addition, Namibia lags behind many other African countries on off-grid solar like solar home systems and micro-grids, despite its successes with on-grid solar. Given the country's urgent need for expanded electricity access in rural areas, it should more prominently explore off-grid renewable options.
Common Ingredients for a Successful Renewable Energy Transition
While we can't draw any firm conclusions from so few examples, there are a few traits that these three countries share. 
Boosting energy security: Denmark acted in response to the oil crisis of the 1970s, Uruguay in response to a drought that made its hydropower less effective and Namibia to reduce dependence on expensive South African imports and to increase electricity access. 
Designing smart and effective policies: All three countries launched national renewable energy strategies rather than waiting for it to emerge purely from the private sector. Forward-thinking leaders gave their political support for their renewable energy rollout, so that the policies were maintained over a long enough time period to build up a critical speed. Even though these countries span a range of income levels, they all had effective governance and were financially healthy. 
Costs clearly mattered: Denmark started much earlier than the other countries, so it needed to consistently subsidize renewable energy, and when it didn't the growth trailed off. Uruguay and Namibia didn't need to rely as much on subsidies because they started later and renewable costs had already fallen — plus their other options were expensive. For them, subsidies were less of an option anyway given limited budgets. However, they still needed to implement policy reforms to ensure the private sector could supply energy at competitive prices. In the future, continually falling costs of renewables should allow more countries to follow in their footsteps.
Looking Forward for Solar and Wind Power Growth
Achieving real systems change will require rapid rates of growth in solar and wind to be achieved and sustained in all countries, not just the leaders. Developed countries that have greater historical responsibility for greenhouse gas emissions and greater capability to act should aim to grow renewables more quickly than the global average to accommodate other countries where a rapid shift is less feasible. At the same time, renewables will have to meet growing demand for power as the world increases energy access and more people buy electric cars and other electrified end-use technologies. But as shown by these examples, with political commitment and policy flexibility, it is possible for countries with very different circumstances to rapidly shift to renewable energy.